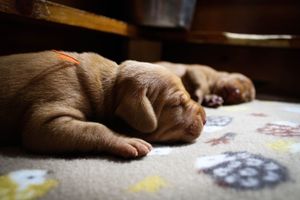 Szikra Puppies
Thank you for visiting.  We do not currently have any puppies available.  You may contact us to inquire about our waitlist.  Additionally, you may visit the Vizsla Club of Central New England for assistance locating a reputable breeder.
We usually produce a litter a year.  We thoroughly health screen sires and dams of all of our litters, including screening for: hip displasia, elbow displasia, heart and eye health and thyroid issues.  None of our dogs are bred before the age of two which is the earliest most of this screening can be completed.  
Puppies are raised in the house with plenty of exposure to other dogs, people, kids and other pets.  They are well socialized and on their way to being crate and house trained.  Puppies are vet checked and vaccinated before going to their new homes at 9 weeks.  
Because we have invested great time and care into developing multiple generations of top winning dogs, we prefer to place our puppies in performance homes, but loving, forever homes are our priority.  
To inquire about upcoming litters, please: contact us. 
Frequently Asked... 
Puppies go home at 9 weeks.  This allows them the time they need with their mother and littermates to develop good behaviors: respect of other dogs, bite inhibition and is past the fear stage that puppies go through at about 7 weeks.  Puppies have a much easier time acclimating to their new homes at a little bit older age.  
All puppies are sold with a contract which outlines our health guarantees.  

Pet puppies will be sold on limited registration: https://www.akc.org/register/information/limited-registration/.  
Purchase from a reputable breeder means that we will support you with information, suggestions, referrals, etc. throughout your journey to help ensure that your puppy meets its fullest potential as a life-long member of your family.  All of our puppies are welcome back to us at any time.