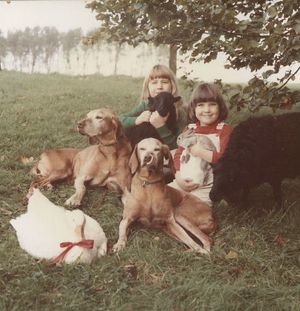 About Us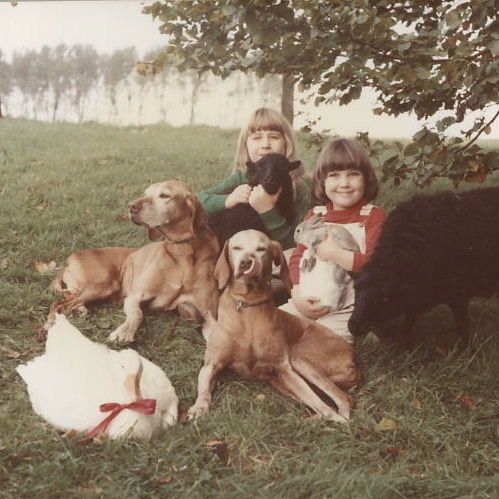 Szikra Vizslas is the collaboration of the Folz Family – Patricia and Ronald Folz, and their daughters Sosanna and Alessandra.

Patricia has been involved with purebred dogs since childhood. The first dog of her own was a Standard Poodle. She competed in obedience trials, and it was at a dog show that she saw her first Vizsla in 1965. She acquired her first Vizsla, "Katie", in 1970, and started a breeding program in 1972 under the kennel name, Sunshine.

Ronald is a (now retired) Air Force Colonel, and during the 70s and 80s the family and the dogs traveled throughout Europe following his various assignments. Katie and Tate served as nursemaid and companions to Sosanna and Alessandra - they were endlessly patient baby sitters and never bored of the adventures that we invented.
Upon return to the United States in 1989, we acquired a Vizsla puppy from Carol Phelps of Szizlin Vizslas to reestablish our kennel under the new name of Szikra Vizslas. That puppy was named Bentley. He would grow up to be Champion Szizlin Bzer, CD, JH – and was very successful in the show ring, most notably winning Best of Breed at the Westminster Kennel Club Dog Show. Though he was only bred a few times, he produced beautifully, including two Best in Show daughters – Champion Pirok Mia (Mia), who went on to be one of the foundation dams of our current line, and Champion Grouse Pt Semper Fi Bougainville (Eve). 
In addition to his adventures in the breed ring, Bentley was the first dog that Sosanna and Alessandra handled. Both competed with him in Junior Showmanship. He was an absolute twerp to show and to avoid complete embarrassment, required us to learn good handling skills pretty quickly. Seeking out some help with his antics, we met the incomparable Patrick Pettit of Patric Whippets. He became a teacher, a mentor and a very dear friend. We owe much of our success to him. Both Sosanna and Alessandra went on to great success in the Junior Showmanship ring, both attaining national top ten level ranking and qualifying multiple times to compete at Westminster KC. 
Through hard work, careful research and good fortune, we have produced many beautiful, healthy dogs over the years - they have earned Best of Breed, Best in Specialty, Best in Group and Best in Show awards. Szikra Vizslas has produced many top ten Vizslas, including the #1 Vizsla in 2005, and several top producing sires and dams. 
We are especially proud to have produced three consecutive generations of Winners Dogs of the Vizsla Club of America National Specialty – all three from the Bred by Exhibitor class. As breeders, we consider this consistent recognition of our breeding program as one of our greatest achievements. 
Although our focus is on conformation, we are committed to protecting the versatile nature of this breed. Szikra dogs have easily earned titles in agility, tracking, obedience and the field. 
Patricia and Ronald now live in Wilton, NH and have a small kennel. Patricia is a licensed hunt test judge, serves as a member of the Vizsla Club of America Breed Education Committee, the Illustrated Standard Committee and regularly conducts breed education classed. 
Sosanna lives with two Vizsla boys in Fremont, NH. She regularly competes in conformation, hunt tests and obedience shows.  She is also a polymer clay artist and creates jewelry and sculpture inspired by dogs in nature.  You can visit her shop at: https://www.facebook.com/trinketsandfancies/ 
Alessandra is an AKC licensed judge with the notable accomplishment of breeding and handling the famous and infamous all time top winning Weimaraner "Marge".