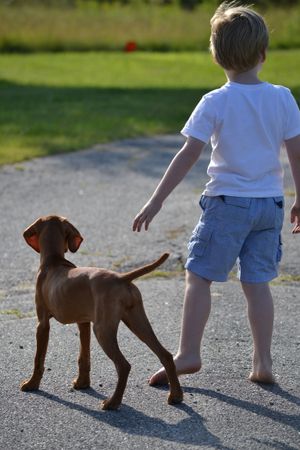 What We're About...
Our Goals
To produce healthy, confident puppies that have the talent to succeed in any pursuit - show ring, hunting, obedience, agility - but most importantly, to be exceptional pets!
Our Commitment
At Szikra Vizslas, we make a lifelong commitment to the puppies that we produce and place. All of our dogs are thoroughly health   screened and we guarantee our puppies against genetic defects. The welfare of our puppies is our top priority and we are always available to consult with and support their families from puppyhood onward. Any puppy we produce is always welcome back, for any reason.
About Us
Located in beautiful Southern New Hampshire, Szikra Vizslas is a family affair - parents Patricia and Ronald Folz acquired their first Vizsla - "Katie" - in 1970. Daughters Sosanna and Alessandra grew up with Vizslas and have been active with the breed ever since. Learn more.

Szikra Vizslas has produced a long line of show Champions, which have also been very successful in other performance arenas. Our dogs have produced multiple generations of Best in Show, Best in Specialty Show and Group Winners, as well as earning hunting, tracking, agility and obedience titles.